Digital Media Production
The way of the future is motion graphics.
We capture attention for our clients by creating 3D animations and incorporating kinetic type into videos. Digital media is used to inform, persuade, promote, and entertain. Advancements in software and technology allow us to make incredible videos and animations. Through implementing principles of design and animation, we create effective and relevant commercial media. Our instructors engage students with software, to create a wide range of projects that bring each client's ideas to life.
MEDIA DESIGN

TECHNOLOGY
DESIGN IS EVERYWHERE
Today's world is flooded with advertising and competing messages.
Our Media Design students strive to be at the forefront of new trends and technology. Our instructors keep up-to-date with their education in the industry and by tracking the latest software changes, to keep students advanced and career-ready.

We treat design as problem solving, to convey our client's message to their intended audience. Using applied design principles, we turn complex ideas and creative concepts into relevant media.

Patrick Frentz | Instructor – Digital Media Productions
Rick Warkenthien | Instructor – Media Design Technology
Tony Conrad | Instructor – Media Design Technology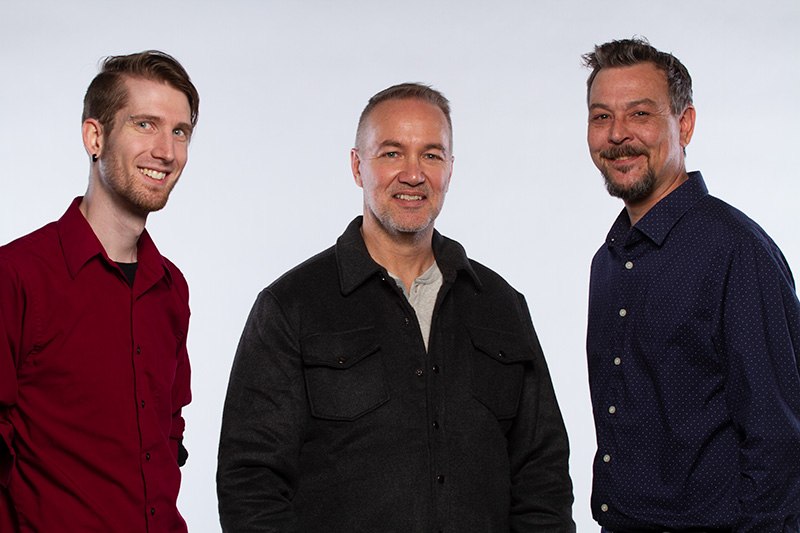 ©2023 by Media Design Technology
Southeast Technical College
2320 N. Career Avenue
Sioux Falls, SD 57107
Justin Dan
I have always been intrigued by film making, animation, photography, video game design, painting, and literature since I was a kid. I remember watching every animated movie that I could get my hands on from the likes of DreamWorks, Disney, and Pixar, as well as live-action movies such as The Dark Crystal and Jaws. My other greatest source of inspiration comes from some of the video games I would play in my room or on road trips from the Gamecube, Wii, and DS era, Like Pokémon or Mario Kart. My all-time favorite type of art is surrealism and abstract art, as they embrace a way of human emotions and virtues such as purity and spirituality. 
I want to delve into both the world of film making and video game design. I thought of pursuing a career in creating movies and television for a long time, especially in the horror, science fiction, documentary, animation, and stop-motion genres. I always imagined working behind the camera, getting every shot that the actors are doing, or behind a computer creating special effects, whether it be CGI or particle effects. This desire evolved into the field of game design, as I enjoy creating characters, settings, weapons, creatures, buildings, planets, and even household items. 
My goal is to use the skills I've learned from both Media Design and Digital Media Production to advance in my field of becoming both a filmmaker and video game designer as I use my powers of creativity and help innovate that landscape. I am a hard worker that strives to have an amazing team with great communication and teamwork. I look forward to working with you in the future, have a fantastic day. 
www.linkedin.com/in/JustinMDan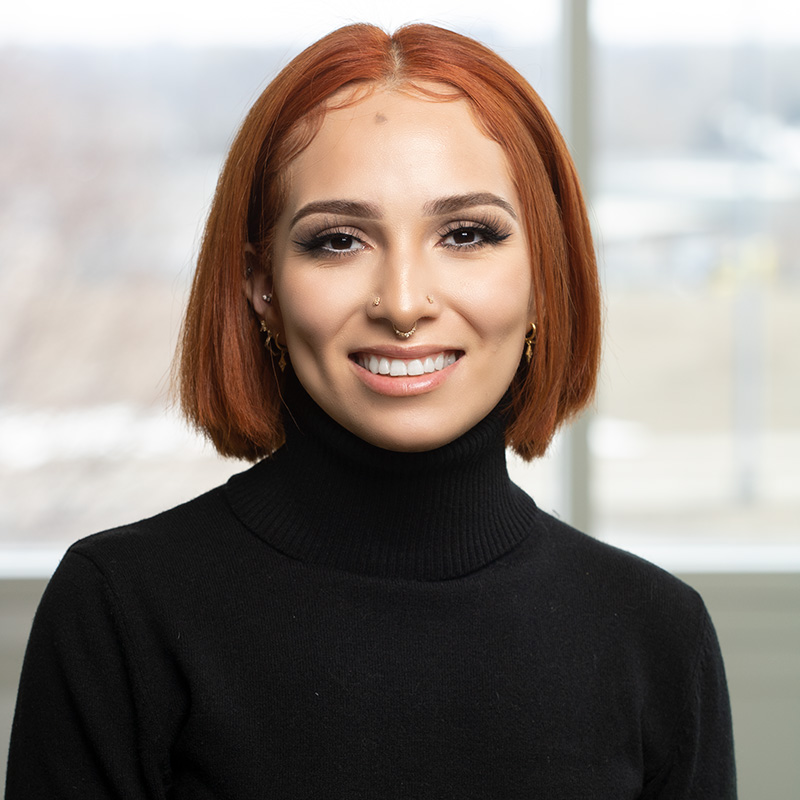 Celeste DeAnda
Everything happens for a reason. I have always stood by this idea in good times, bad times, and even in my work. As Bob Ross once said, we can make "happy little accidents". You can't always control what happens, but you can control how you react. If a project isn't coming out the way I need it to, I simply change my perspective and work with what I have. 
I developed an interest in videography from watching music videos growing up, and in high school when most of the media I consumed was YouTube. One YouTube creator in particular, Julien Solomita, had a focus on making their daily vlogs cinematic. I was fascinated at how he could make regular chores interesting. I love the idea of giving complexity and perspective to something we're already familiar with. I am especially drawn to the way music videos can add new depth and meaning to a song. 
My personal work often seems to naturally create its own story as I work with it. I've found my videos are more cohesive when I let the story tell itself as opposed to planning every detail of it. I've been learning how to plan my work and still communicate what I desire through my time here at Southeast Tech. It hasn't been easy, but it's been a fun challenge for me, and I'm eager to continue challenging myself. My intentions lean towards bridging an idea or a feeling to the viewers and ultimately sharing something unique with everyone. 
www.linkedin.com/in/codeanda1
Sophie Hall
When I was younger, movies and books were my oasis from the noise of the outside world. I became fascinated with how people brought their stories to life. I still get a joyful feeling now as I've gotten older and gained more skills, I can create more complex work. The more complex the work, the more people I want to share it with. 
The main program I use for video editing is Adobe Premiere Pro. The way I make editing decisions at work is different from the ones I make at school. At work I am given a video and a script, and I focus on making it cohesive and appealing. When I am the one shooting and editing the video I have more creative freedom to plan it out more. My goal is still to make it look cohesive, but I have the freedom to add more transitional shots instead of just transitions. 
I currently work at a local TV station, and I really enjoy it. I've learned a lot about editing, especially about how to do it quickly. The best example of this was the derecho on May 12th, 2022, when we had breaking news for 5 hours. I learned the most when we lost power. I was not an important part in getting us back on-air, but I helped the newsroom to edit the video coming in from interviews and the reporters in the field. I did multiple cut downs and a full story package for a well-known reporter. That show was nominated and won an Emmy for our coverage of the storm. 
www.linkedin.com/in/sophieghall
Aaron House
Growing up I watched a lot of YouTube and was intrigued by the editing I saw. I wanted to know how people could make text type across walls or change the color of the sky. I quickly found myself curating what I viewed to be based around editing and content creation. In my free time, I found myself trying to learn how creators were producing their content. 
During my senior year of high school, I took a photography class and quickly found myself falling in love with this aspect of media production, which brings me to where I am at now. I now find myself happiest behind the camera and inside of editing software, producing videos that highlight my love for editing and video production. I enjoy pushing myself to learn a new technique or find a way to improve each video from my last. Sometimes it can be easy to impress and satisfy your client when you simply meet all of their requirements, but in my opinion, a project truly turns out well when I find myself impressed and satisfied with what I created. Since I know what went into the production, I know that I am walking away from it a better and more experienced creator. 
I am very fortunate to have a job while in school that allows me to produce content that I want to create and can find myself happy with and be proud of. Through working for my local sneaker store's YouTube channel, I have been very fortunate to meet some amazing video creators from across the country, and learn from them how to take my content to the next level. Moving forward in my career, my main goal is to make projects that impress every time, because I know that if I want to be successful in this field, my best needs to be my bare minimum. 
linkedin.com/in/aaronehouse/
Johnny Hua
"Scene one, take four, ACTION!" My goal as a Digital Media Specialist is to capture the world of cinematography through my point of view. I also want to highlight and strengthen the vision of other people's ideas. My goal is to become a freelance photographer and videographer. I enjoy new ways of capturing stories and compositions while having freedom and creativity in my films. This allows me to set a scene, create a mood, and tell a story. 
When I applied to Southeast Technical College, I believed the door to my journey finally opened. I took a leap of faith during my first year at STC and applied to Complete Wedding and Events. After not hearing back from my application I had a fear it wasn't meant to be, but my drive to get experience and to truly learn took over. A week later, I stopped in their office and was offered a spontaneous interview—I was hired on the spot! I know my confidence is limitless and that my actions create opportunity. I have worked as a professional Videographer Contractor through Complete Wedding and Events for a year now. 
Every time I watch a movie, an ad, or a YouTube video, I always study them and ask myself, "how did they get that shot?" I enjoy what I do with a passion and it has led me to network with amazing people. Working with clients has allowed me to build rapport and professionalism within my career. Someday, I hope to show my view of the world, to the world. 
linkedin.com/in/HuaJohnny
Alejandro Pina
From character design to animation, I've always had an interest in creating digital media. What really pulled me in to pursue this degree was in high school when I attended an American film history class and learned what really goes into production and how certain effects are used; I found that it was something I really enjoyed. After high school, I looked into getting enrolled at Southeast Tech and before I knew it, I was here. It has been difficult at times, but what motivated me most to continue or to finish projects was knowing that this is what I wanted my future to be, so putting in less than 100% was never an option. 
My creative process when doing any work consists of planning, creating storyboards, then creating rough drafts to bring my ideas to life. I really enjoy incorporating my ideas in the software and seeing something I envisioned being produced. Even when in the software, I find myself still altering my designs to see how my work can be improved. Working hard and seeing what I can create with all the new skills I've learned is something I enjoy doing. 
I am very thankful for everything I have learned and accomplished in the last two years. I keep an open mind when doing any project. Whether it's for a client or for myself, I like to try new strategies and ideas and learn from them. I am ready to go out in the field to prove myself and my abilities, and see what else I can learn from other creators. I am very excited to see what the future holds for me. 
linkedin.com/in/alejandro-pina02
Carter Trautman
Heyo! My goal is to become a successful content creator and entertainer. My spark for this field began in middle school when my friend inspired me to create my gaming-related YouTube channel. Back then, I didn't know how video software operated. As I grew over the years, so did my skills. I observed many different creators on the platform and studied what each one of their styles were, and how they went about editing videos, producing thumbnails, and advertising. 
During high school my skills significantly improved with editing footage, creating thumbnails, and becoming a more entertaining commentator. My skills were first put to the test when I took classes like A/V Production, Media Production, Broadcasting, and Music Production. After years of meaningful experiences, it was time to graduate and move on to college to get a degree in Digital Media Production at Southeast Technical College. 
At STC, I've learned to take my skills to the next level by going more in depth with what I already know and have been educated in new fields such as photography, animation, design, 3D modeling, and coding. STC has not only given me knowledge on how these industries work, but has also made me realize who I am and the creator I'd like to become. I plan to work hard on entertaining the world around me. Whether it's creating comedic YouTube videos or producing blockbuster films, I want to be an inspiration for others to be themselves and to follow their dreams. 
linkedin.com/in/cartertrautman
Josalyn Van Egdom-Briggs
Growing up, I had big ideas for what I wanted to do with my life. My first idea was a teacher, then that changed to a hairstylist, accountant, and finally a photographer. The reason I finally decided on this path is because I loved pictures. I liked how you could take a simple picture and make it look so beautiful. A technique I heard about to make a picture more beautiful is to use Photoshop and the tools they provide. I had no idea what that was or how to use it, so I started looking for degrees that had courses in photography and in Photoshop. I chose Digital Media Production at Southeast Tech because I loved how it was a two-year program with credits for both photography and animation. I was interested in the animation classes because I found a love for animated movies and wanted to learn how they were made. 
I want to use the skills I have developed to tell stories through the photos and videos that I create. My storytelling process starts with developing creative ideas, then utilizing software like the Adobe Creative Suite and Maya to make those visions come to life. 
My current work primarily consists of making videos. Improving my video production skills is my primary focus, while being able to work more with photography and videography. While I'm pursuing my goal, I want to work in advertising using the skills that I have developed through STC to help make commercials that promote products. 
linkedin.com/in/josalyn-vanegdom-briggs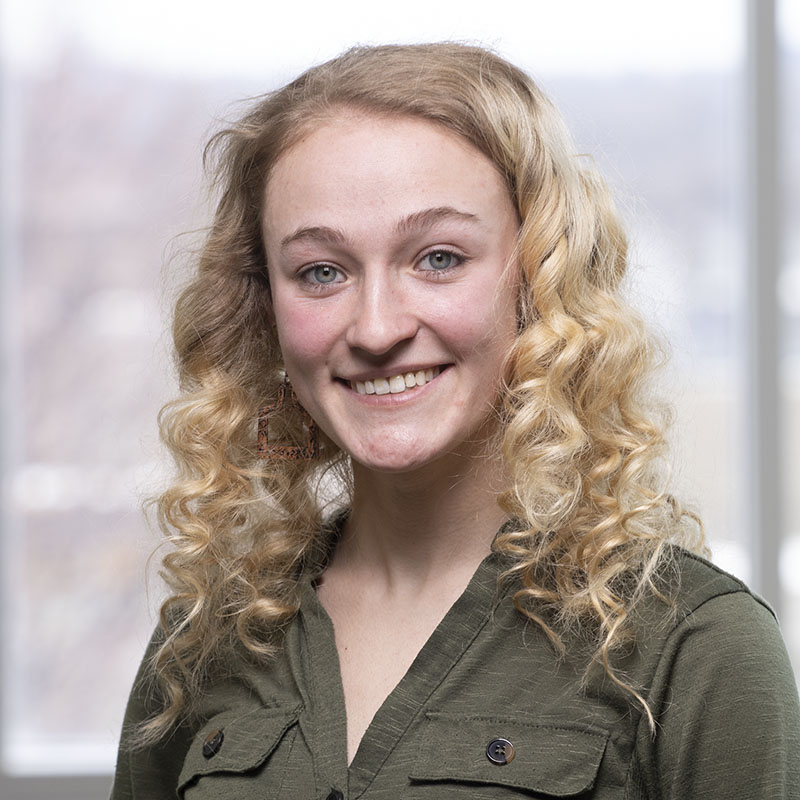 Jessica Anderson
I knew that I wanted to go to school for Media Design Technology because I enjoy coloring and seeing how cool I can make it look. I also really love using technology so I thought that was a perfect way for me to combine both of my interests. I have always liked coloring since I was little because my mom and I would sit in the living room and color together. I always picked hard coloring pages to challenge myself on doing something hard and knowing that I can make it look cool in the end. I took computer classes in High school, and I really liked them. We were designing art on wood with a laser printer and I loved that. I was the only one that really understood that, and I really enjoy it. I talked to my family about it and they said I should go for something technology so that's why I picked Media Design. I would rather use Illustrator, Photoshop, and Indesign than other adobe software.
I liked making business cards in school. When we had to make those I feel like I could see myself making those for a business. I like learning new things with technology and even when designing projects. I am a hard worker and I have good time management. Every project I am assigned gets great attention to detail. I enjoy creating designs and seeing the final product. I love working with clients from start to finish to help them bring ideas to life with my design skills. I am also skilled in using many Microsoft softwares!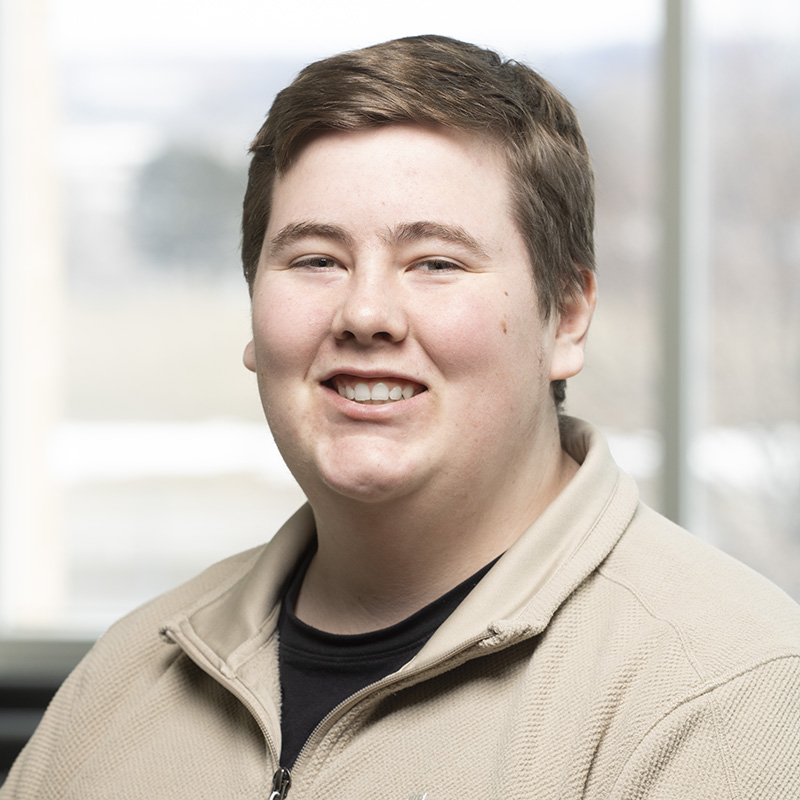 Brandon Benney
I've always been creative in many ways, I just didn't know it would eventually become graphic design. I have always enjoyed technology and had a passion for it and the new age but never really had the opportunity for designing on a computer. Being in a small town, there is only one class for creativity, which is art. I've always loved art class and painting but never thought of art as being a possible future for me. I may not be creating paintings, but designing to me, is a version of art but better than it.
I am from the small town of Parker, South Dakota. It has a population of 1,000 so I was able to do some of the things that others from a larger town weren't, like being able to be in FFA and play basketball. I mainly found my enjoyment in video games, which created so many friendships and memories for me. Playing video games has made me always want to complete the task ahead of me, and never give up. I have always been very vocal and a great communicator and communication is needed in any workforce these days. I have team working skills, time management, and problem-solving skills. With designing, I'm able to create almost anything in so many different ways and that's the reason I have chosen to be a graphic designer. With designing, there are so many softwares and ideas that are available to a designer.
My art teacher had a class my sophomore year in high school called media art, it was pretty much a form of graphic design and I really found creativity that I never had before. From then on, I was looking for anything graphic design/digital media for my future. That's when I found the design program at Southeast Technical College and knew it was the best for my future.
Trey Choate
As a child, I was always labeled as the "creative kid". For as long as I remember, I was creating things. There are countless memories I have of myself making silly little projects: like making signs to hang up around my neighbor's playground. Or, the time when my sister and I made a "zombie apocalypse" YouTube video with plastic cup zombies. Even in the 5th grade, when I made an entire arcade out of cardboard in my bedroom. I was always thinking of another project to work on. Whether it was one of these childhood projects, or if I was sitting in one of my many art classes, one thing was for certain: my mind was flowing with creative ideas.
I loved being able to take an idea I had in my mind, and turn it into a real thing, even if it was just for something fun. I'd always get a, "Wow, this is so creative!" or an, "Amazing! Can you make something for me?" from my friends and family. The encouragement I got from all these people I'm close to helped me determine my career path: becoming a designer.
Designing has allowed me to express my creativity in brand-new ways. I've learned so much about brainstorming new projects, executing designs, and showing off my work to those around me. My creativity and out-of-the-box thinking have brought me so far already in this field, and I'm sure it'll help me exceed in my career.
And of course, I still make time to do my fun little projects, just like I did in my childhood many years ago.
treychoate.com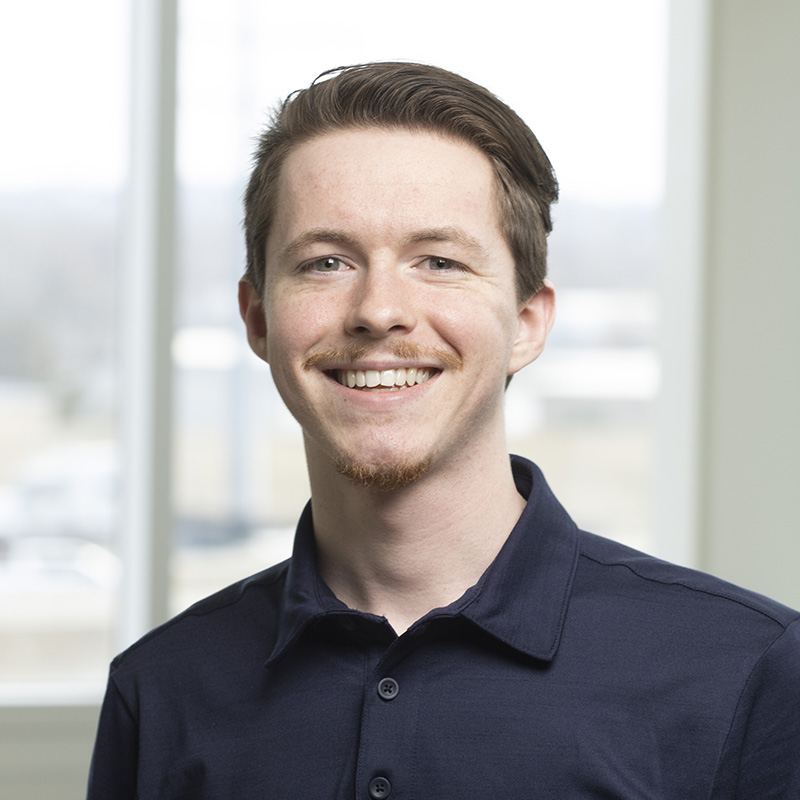 Javin Juracek
Art is a form of relaxation, getting to let go and be free of the worries in life. Throughout every day in my life, I am coming up with ideas. How I choose to create art will vary from classic paper and pencil, using Procreate on my iPad, or now using Adobe programs on my laptop. Throughout middle school and high school, I took every art class that was offered. From Intro to art, pottery, painting, drawing, photography, and graphic design. When I took the graphic design class in the second part of my junior year, I realized that's what I wanted to pursue after high school. My most recent thing that I have started practicing is drawing tattoos for myself. It would be fun to start creating designs for close friends, then maybe purse something to share on social media. It is a very fun way to simply create art, but possibly see it come to life through a tattoo. I am hoping to land an internship or even a job when I graduate. Wherever that may be, I want to be using creative illustration. I want to be able to sketch a handful ideas then must choose a final and be able to make it come to life in different ways, both physical and on screen. Throughout everything I have done over the years with design, I have learned that to use patience is key, and that it will pay off.
javin.online
Emilee Kodet
Being raised on a farm and graduating from Hills-Beaver Creek in Minnesota has allowed me to look at creative concepts from a different perspective, and from taking care of animals to time spent in extracurriculars has taught me time management and how to depend on myself when solving problems.
Since eighth grade, I have struggled to find the right career path and to choose where to continue my education. I juggled being a vet technician or a K-9 police officer. After taking the first computer class of many, I had the opportunity of being a yearbook staff member. My first task was to design a layout for a page, and ever since then, I discovered the potential I had that made me want to further myself in the design field. Not only did I encounter design principles through creating layouts and designing the covers, but I also got the feel of a natural work setting. My computer teacher always told us, "I am giving you the freedom to do the options I gave you, but I want you to treat this as if it was a job." I stayed in that class till I was a senior because it provided excellent skills to hone before attending college.
In my senior year, I decided to go to Southeast Technical College to further my education by majoring in Media Design. I realized I lacked the knowledge of Adobe software as I started my first semester, but I finally overcame that learning curve. I have strengthened myself in the software, but there is always something new to learn. I plan to keep learning whatever may come in the design field and use it to my advantage. Being a flexible designer is essential in the design field because the design world is constantly changing.
emileekodet.com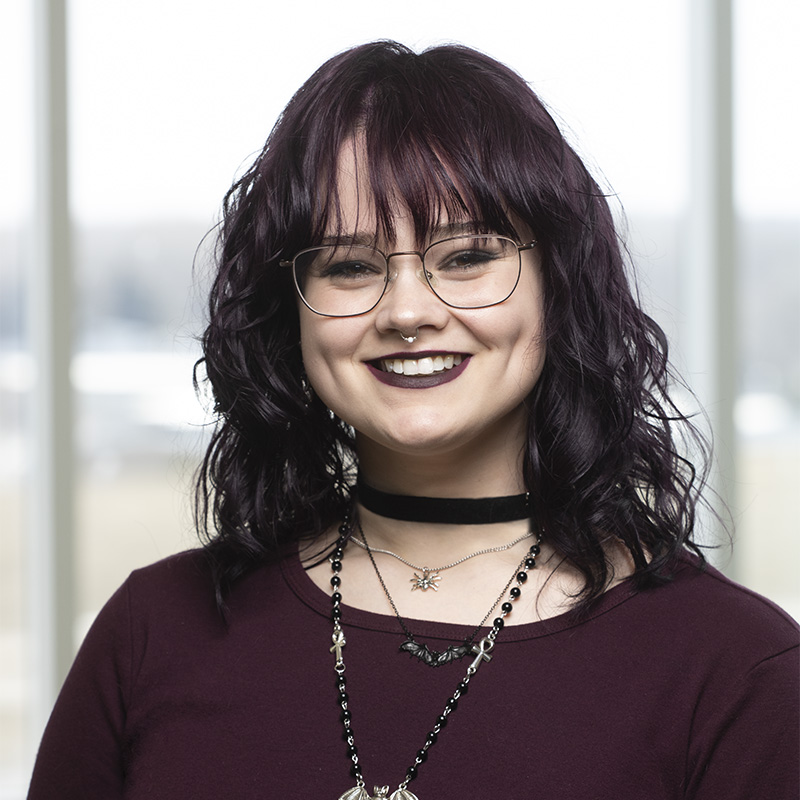 Delaney Krogh
I was born and raised in Tea South Dakota. Tea has a quickly growing population 5,714, but this number was much smaller when I was growing up. I was always the artsy kid in the class growing up. Honestly maybe I was a little pretentious little seven year old, walking around with my little sketchbook everywhere I went. Always doing 'famous people' essays on an artist (Or Amelia Earhart). To be honest… I was insufferable. Nowadays I have traded my sketchbook in for a Macbook. I like to think I'm not as insufferable these days. I am very comfortable with most Adobe software including Illustrator, InDesign, Photoshop, Dream Weaver, and After Effects.
I am the cohost of a podcast so this also means I am comfortable and able to go on long and informed spiels about anything and everything. This has also allowed me to be very capable in audio editing softwares, specifically Garageband. I work well with deadlines and can, if need be, start and finish a layout within the hour if the pressure calls for it. I also did special effects work for many local haunted houses so this means that I am accustomed to getting things done in a chaotic work environment.
I can be a team player as well as a lone wolf, I can thrive in many different work settings. I have been told that I am a very good idea generator. And I also can pick new tasks up quickly and relatively efficiently.
delaneykrogh.com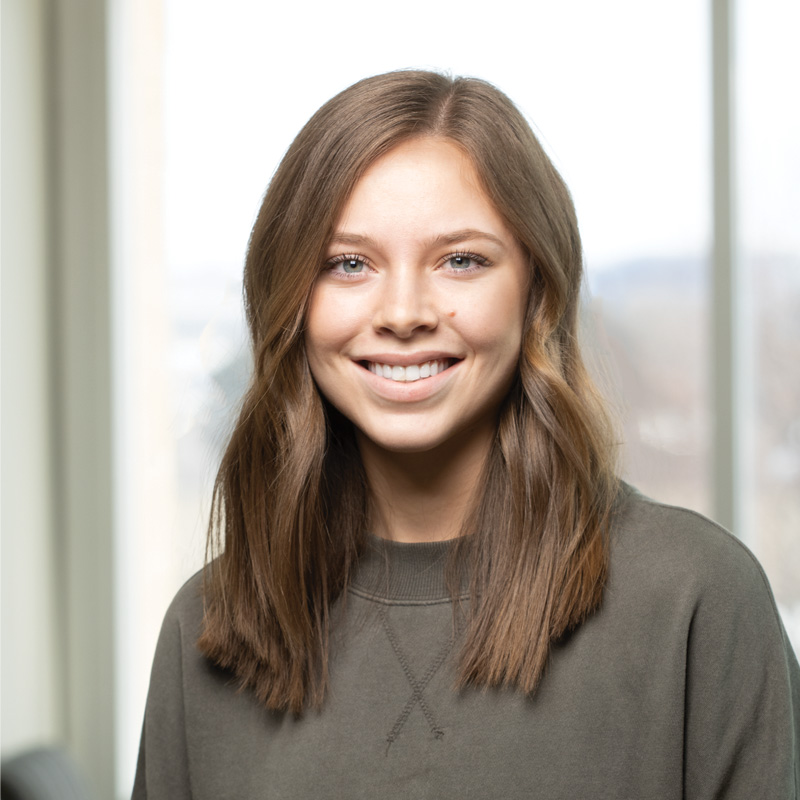 Emily Muilenburg
From elementary school to high school, I loved taking art classes. I looked forward to it every day. It's something that just clicked for me. I had tried it all, basketball, softball, and track, none of which came as naturally as my ability to create. Throughout high school, I invested in art and visual communication classes. In Visual Communications I was introduced to the Adobe suites. After working in the programs and creating brochures, invitations, stamps, business cards, and other projects, I knew this was something that piqued my interest. In my senior year, I got an internship with Custom Printing and learned a lot more about print.
I started looking at graphic design programs at four-year schools and knew I didn't want to spend two years on generals. After looking at Southeast Tech I found the Media Design program. I toured the program and decided that was my next step in continuing my education.
The Media Design program has opened so many opportunities for me as a creative individual. I have learned multiple Adobe programs, worked on many real-world projects, started contracting my work, and have been equipped with skills for a Marketing Work Study and helping on the Communications team at tre Ministries.
Pouring effort and creativity into every project comes with challenges. I've learned a lot in the media field but I have also grown as an individual. I am extremely grateful for the gift I've been given to serve others.
emilymuilenburg.com
Maxwell Peacock
I've always been creating and I don't think I can ever entirely stop. I love art in all its disciplines, from painting to music to design. This love led me to drawing, painting, and later digital painting after saving for a Wacom drawing tablet and creatively acquiring Photoshop.
I didn't know it yet but when I was painting fan Minecraft banners for my favorite YouTubers in my early teens I was taking my first steps into the design field. This newfound love of branding, which I thought was just social media design at the time, led me to where I am today. Through social media designs, I was able to explore different styles over the years, from illustration to photomanipulation, 3-D designs, and more. The more I learned, the more I wanted to explore and explore I have. 
In the last two years, I have taken an artistic step back to physical painting with the goal to have more art shows throughout the next few years. Design-wise, I have grown so much while gaining my degree at Southeast Tech and working as an intern, and now a part-time employee with Malloy Electric as their graphic designer. 
My future business goals would be to work with a company that is pushing its client's creative vision as well as trying to create unique designs and campaigns. I'm excited to see what my future in art and design brings, as well as what the future of art and design is, and how I can contribute to it.
maxwellpeacock.com
Jessica Phillips
I always held a passion for design in multiple mediums, but I never knew It could be a career. After a brief conversation, some convincing, and research, I decided that designing was my passion and that I was going to make it my career. After completing 2 years of the marketing program at Southeast Tech, I stumbled across the Media Design program. I realized this was the degree I needed, to get where I wanted to be. I enrolled during my last semester of the Marketing program and started my journey in the design world. As I have pursued this program, I have learned a lot about this field and myself.
I was born and raised in Sioux Falls, SD. While this may not be considered a small town, I have grown an appreciation for small, local ideas. I also attended a small high school which allowed me to gain better opportunities and skills. Attending a project-based learning school, gave me the skills to be an excellent team player, master time management, and network well. I have always aspired to be a Jane of all trades. I am dedicated to my projects and devoted to understanding multiple aspects of my career. To me, it is important to understand all the moving parts that make a career smooth-flowing and how I can give and grow my talents to help.
Working with me, you will collaborate with a person who is loyal, dedicated, hardworking, organized, and professional. I offer a range of skills from soft skills to software including Adobe and Microsoft programs. I am adaptable in any environment and have great leadership skills. I hope to continue to grow and challenge myself and others. There is always room for improvement.
jessicaphillips.online
Tess Ringling
Growing up in a small town, I didn't always have the chance to explore my creative side. I grew up in the small town of Platte, South Dakota, about 2 hours from Sioux Falls. I was born and raised on a farm and graduated with only 24 students in my class. There were perks to growing up in a small town and going to school in a small district. I was able to get involved in different extracurriculars like the National Honor Society, Cheer & Dance, Band, FFA, Student Council, and Yearbook. Being involved in multiple activities, I quickly learned how to manage my time and multitask.
When I was younger, I loved Interior and Architectural Design. I enjoyed drawing floor plans for houses and looking at flooring and countertops. At the age of 12, I bought software to design a home from scratch and pick all the finishes and furniture. I think this is where I got my start in design; I would spend hours making houses. In high school, I worked at a local sign shop designing in Adobe Illustrator. I loved my job, even if I was only there a few hours after school.
After graduation, I wasn't sure what I wanted to do. I ended up attending South Dakota State University for Agronomy. I quickly realized that wasn't what I wanted to do for the rest of my life. After my first year, I toured Southeast Tech and instantly knew I needed to enroll in the Media Design Program. This program has trained me in multiple programs that have prepared me for the field and taught me valuable lessons to advance my designs. Southeast Tech has pushed me out of my comfort zone, and I am grateful for it.
tessringling.com
Amber Van Roekel
During my growing-up years, I loved creating.  Ever since I can remember, I've been drawing or creating all kinds of weird stuff. I was a live-in-the-moment type of kid, and I never really thought much about what tomorrow would bring. That being said, I never knew what I wanted to be when I grew up. My answer to that question whenever I was asked, was always 'I'll figure it out when the time comes.'
Well, the time came, and I still didn't know. After high school, I planned to go into cosmetology, but after my interview, it became clear that that would have been a huge mistake. Instead, I started working at a factory, which I knew I hated from the first day. I was given good advice, though, to stick it out until I really knew what I wanted to do with my life.
It wasn't until a few months into working at the factory that I sort-of, kinda knew what I wanted to do. I knew I wanted to work in a creative field because that was a big part of who I was. I also knew I wanted to love my job, so I thought about going to school for Graphic Design. 
I had a general idea of what a graphic designer's job description was, but I didn't really know what to expect, so I was still a bit hesitant about it. However, I discovered it was more enjoyable and less complicated than I previously thought. I became proficient in different Adobe programs, including Illustrator, InDesign, and Photoshop. I took a deep dive into photography which I had only dabbled in before and loved it. Going to school for this career was one of my best decisions, and I don't plan to regret it.
amberrosevan.com
Selena Vargas
I am a designer, a writer, and a mixed media artist. I feel at home in the field of design because it combines my love for the written word and my love for creating impactful visual layouts to communicate a message for a specific audience. My experience at Southeast Technical College has helped me build technical skills on top of the artistic knowledge and capabilities I've been building since childhood. During my time in this program, I've learned that successful design is goal oriented and well thought out. There's been great improvement in my skills thanks to a better understanding of design principles, feedback from instructors, and lots of practice and dedication on my part. I've been artistic, detail oriented, and slightly obsessive about little details my entire life and design is the perfect avenue to channel those characteristics. Studying design has surprised me, too. I discovered that the research and planning process is something I enjoy, and so is the precision of production (I had zero complaints when we spent a few weeks of class time hand-cutting posters and invites for the portfolio show). Customizing typography is also something I enjoy; many of my designs incorporate elements I've handwritten. The language of visual communication fascinates me; such as the ways that different fonts, shapes, and colors affect a viewer's perception of a message. My belief is that design is much more than just making something look nice – it's about making choices that make an impression. I'm fond of visual storytelling, meaningful typography, and unfussy design. Currently, I have plans to continue my education and complete an associate's in Marketing to complement the Media Design degree I will be completing this year. I'm looking forward to my future in the field, and hope to land an internship or work with a mentor that will help me further grow my skills and confidence as a professional designer.
selenavargasthedesigner.com
Paige Waddle
Ever since I was young, I have been fascinated with the arts. It began with music and film and slowly grew into loving art and designing. No matter where I was, I was drawing, sketching, or creating artwork and designed based off things I enjoyed. This would be sketching portraits of characters, scenes of movie, album covers, and even my take on what they lyrics of certain songs meant.
Besides drawing, I also found myself playing around with colors. I enjoyed picking out paint colors for my room and around my house. I played around with different swatches in the color books and was always very, very fond of how great colors were and how much fun they were to work with.
In my high school days, I found myself doing mural type works on my bedroom walls. I got great deals of inspiration when I was stuck in quarantine and the artwork progressed as time went on. I was very proud of this work all the way until I unfortunately had to paint over it.
All in all, art has been one of the biggest parts of my life from the beginning. I can't begin to express the appreciation I have for it and for how it has helped be come to where I am today. I have advanced greatly at Southeast and am so lucky to have had the opportunity to learn and grow in my design skills here to continue to do things that I enjoy doing.
paigewaddle.com
Derrona Watts
Coming from Chicago a city with a variety of arts & cultures. I was always curious about the way things were created/ designed. As a designer, I strive to solve problems, strategize, and
provide an understanding of nature from my experience. My work explores the relationship between visions and emotions. With influences such as Michael Jackson and Jennifer Hudson new ideas are generated from traditional and modern structures. Ever since I was a child, I have been fascinated with how the eye captures what the brain wants to communicate.
Music plays a big part in my life. If I can dance my way through life I would. I've learned to dance to deal with the reality of life. Music led me to design. The elements of music help me to see the beauty of creation. Both music and design help you to express your emotions. Growing up all I wanted to do was color, dance, crossword puzzles, and comedy. As I grew older, I still wasn't sure what I wanted for a career.
I spent 7 years out of school, and one day I decided it was time I get back in school. I enrolled in college for the first time with 18 credits. I had the mindset of a high schooler not realizing college life is a faster pace. The first semester was challenging because I was an undergrad and had no experience in any of my program software. Balancing life while trying to pursue a career can be difficult. It's up to you to find that balance. At times the workload may be heavy, but I didn't let it limit me. As I studied not only the software but the meaning of design, I realized why I chose Media Design as my major.
If I hadn't enrolled in school, I wouldn't be confident in my future. I'm excited to see where my designs lead me. Maybe a clothing line, a shoe company, a jewelry collection I don't know, still undecided. What's in your Design Closet?
derronawatts.com